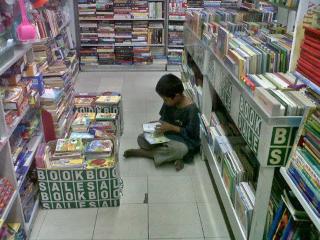 Manila - Barefoot, dirty, and in tatters street kid, "MJ" often visits this book store to beg for money or food. Sometimes he comes just to read. When the store isn't full with customers, the manager allows him in.
Financial hardship forced MJ to drop out of school some time ago and has been living with his grandfather, a street vendor, for 3 years. His sister has been adopted by family and a brother

lives in a boys' home. The youngest sibling died. MJ's mother has one child with her.
MJ has recently moved back with his mom and can return to school. At 13, he will enroll in 2nd grade. He says, "While I am nothing.

I want to be an inspiration to young beggar like me, determined to graduate, study."