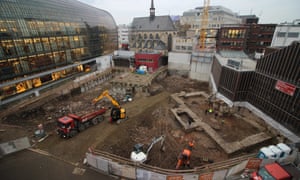 "The remains of the oldest public library in
Germany
have been discovered in the middle of Cologne."
"The walls were first uncovered in 2017, during an excavation on the grounds of a Protestant church in the centre of the city. Cologne, one of Germany's oldest cities, founded by the Romans in 50 AD under the name Colonia. But the discovery of niches in the walls, measuring approximately 80cm by 50cm, was, initially, mystifying."
Find out what the niches held here.