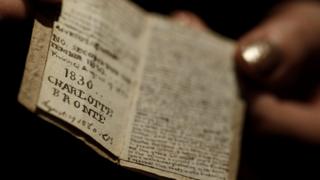 The tiny book pictured above, written by a young Charlotte Bronte, recently sold at auction for over a half million pounds!
"These tiny manuscripts are like a magical doorway into the imaginary worlds they inhabited, and also hint at their ambition to become published authors."
This story involves the Bronte sisters, tin soldiers, author Tracey Chavalier, Dame Judi Dench, and an multi billion euro arts scam. Hope you'll read the article for yourself.